Limerick and Killarney
---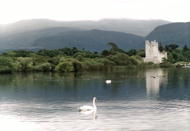 This was taken in Killarney National Park. I went for a tour of the castle, and learned many interesting things. Mostly, that castles in Ireland seem to have been constantly attacked and sacked. Oh, that and the guy who owned the castle lived the best.
---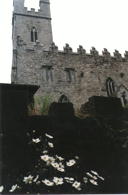 This is St. Mary's church in Limerick. It's a very old church which traces it beginnings to the 12th century (Maybe I'm wrong, I'll have to look this up)
---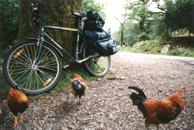 I rented a bike in Killarney for a week and biked all the way around the Beara Peninsula. As you can see, I made some friends a few miles after I started! They flapped with all their might to help me along, but being flightless birds, I remained earthbound.
---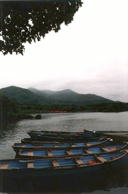 These were moored near the lake with the swans and castle above. Someone told me that they were going to be taking immigrants on to America, but I didn't really believe them.
---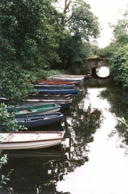 Actually, all of these boats were for rent, but it was a guided tour. I rather would have just gotten a canoe and paddled around myself. But of course either of these options were strictly out of the question, due to the monster in the lough.
---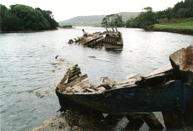 This is what happens to you when a Lough Monster gets you. Ouch!
---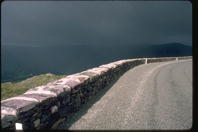 Yes, I got rained on a LOT that day.